A stylish hideaway
for adults
2023.04.27 OPEN
KAYA Kyoto Nijo Castle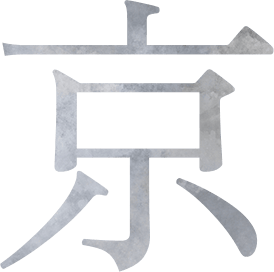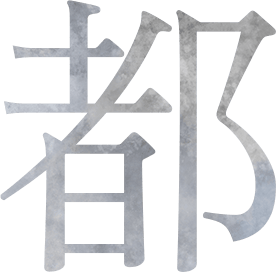 Discover a hidden gem in Kyoto, only for adults in the know.

Located in the vicinity of the world heritage of Kyoto, Nijo Castle. KAYA Kyoto Nijo Castle rose in this land of tradition and prestige. It's a hotel where Kyoto-savvy adults would make it a secret hideaway.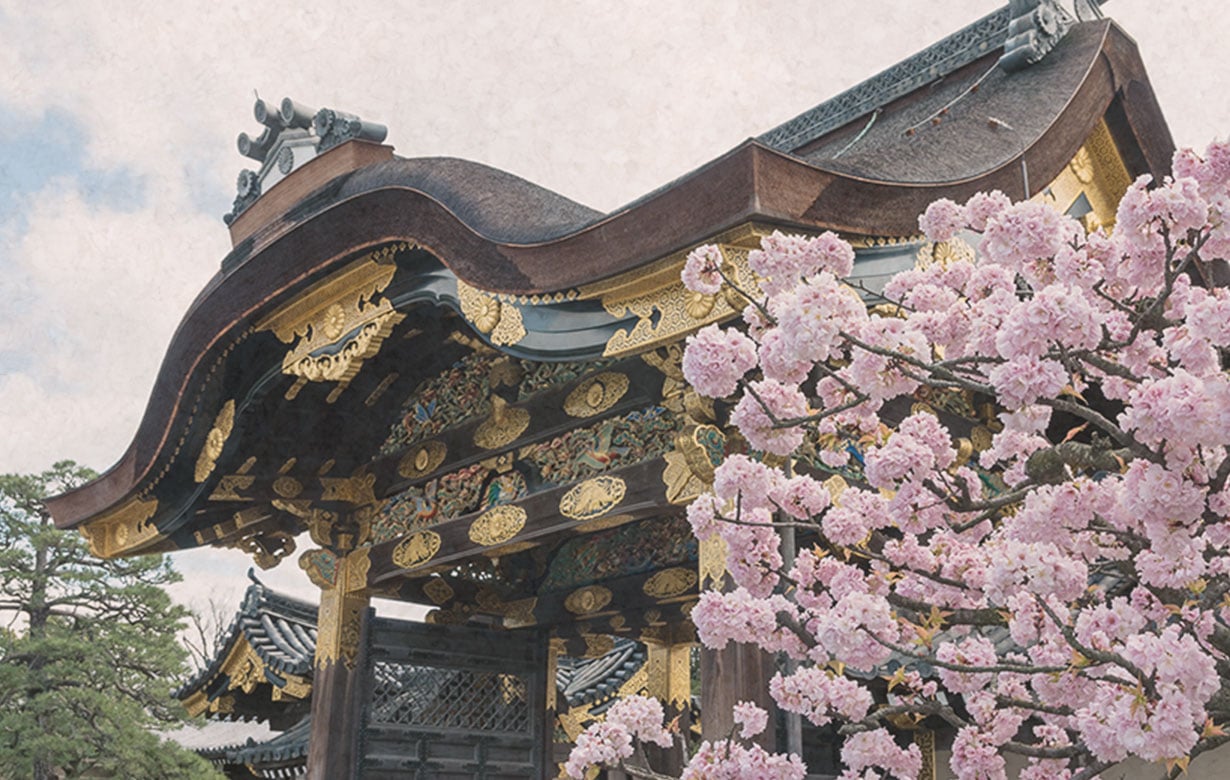 The premise is free from hustle and bustle. As you walk through the Kyoto's little alley-like driveway, you will find a beautiful Japanese garden. Artwork of dyed products, specialty of Maruta-machi, where we are located, are placed throughout the hotel.
Enjoy an elegant moment, while experiencing the culture of Kyoto.


guest ROOMS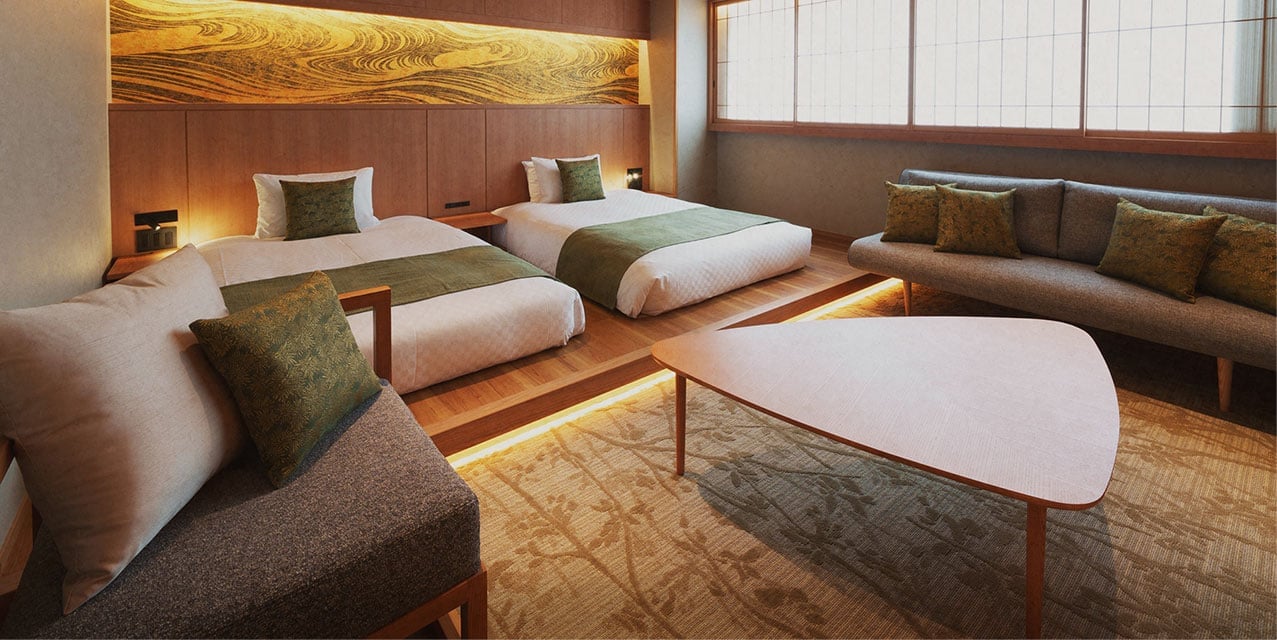 Come away from rush and hurry and touch on the culture of Kyoto in a soothing space.
All of our 57 guest rooms are furnished in a unique Japanese style, with a small koagari area with a slightly raised flooring and high ceilings that make the most out of the steep roof.
Guestroom Types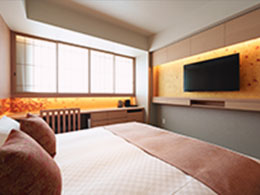 Standard King
6 rooms in total
Size: 21.79 sqm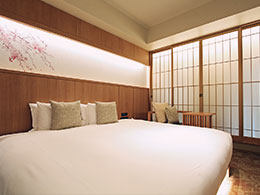 Superior King
10 rooms in total
Size: 23.09-25.69 sqm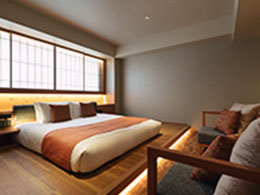 Deluxe King
4 rooms in total
Size: 30.12 sqm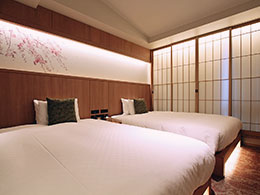 Standard Twin
8 rooms in total
Size: 25.69 sqm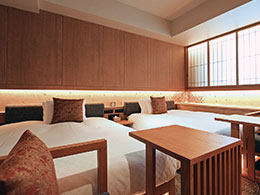 Superior Twin
15 rooms in total
Size: 28.44-30.12 sqm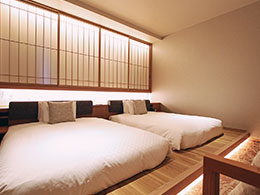 Deluxe Twin
4 rooms in total
Size: 33.48-35.08 sqm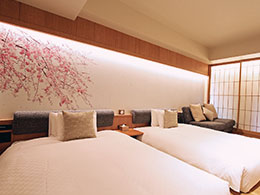 Executive Twin
5 rooms in total
Size: 40.11-41.27 sqm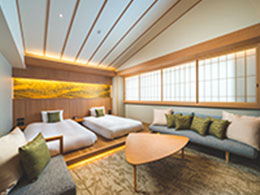 Premier Twin
3 rooms in total
Size: 37.89-39.32 sqm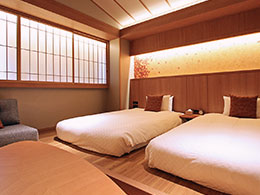 Signature Suite
1 room in total
Size:52.58 sqm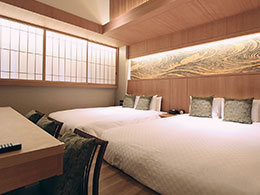 Superior Twin - Universal Design
1 room in total
Size: 28.44 sqm
Guestrooms Common Features and Facilities

Wi-Fi /
Wired LAN

Simmons bed

No smoking

Coffee machine

Humidified
air purifier

Nightwear

Currency
exchange machine
| | |
| --- | --- |
| Check-in / Check-out | Check-in 3:00 PM Check-out 11:00 AM |
| Number of Guestrooms | 57 rooms |
| Facilities | Flat TV, refrigerator, hair dryer, air conditioner, safety box, electric kettle, tea/coffee set, shower toilet, Simmons bed, humidified air purifier, currency exchange machine |
| Bathroom Amenities | Cotton swabs, body towel, shampoo, body wash, conditioner, slippers, hair brush, cotton pads, toothbrush set, shaving set, towels, nightwear |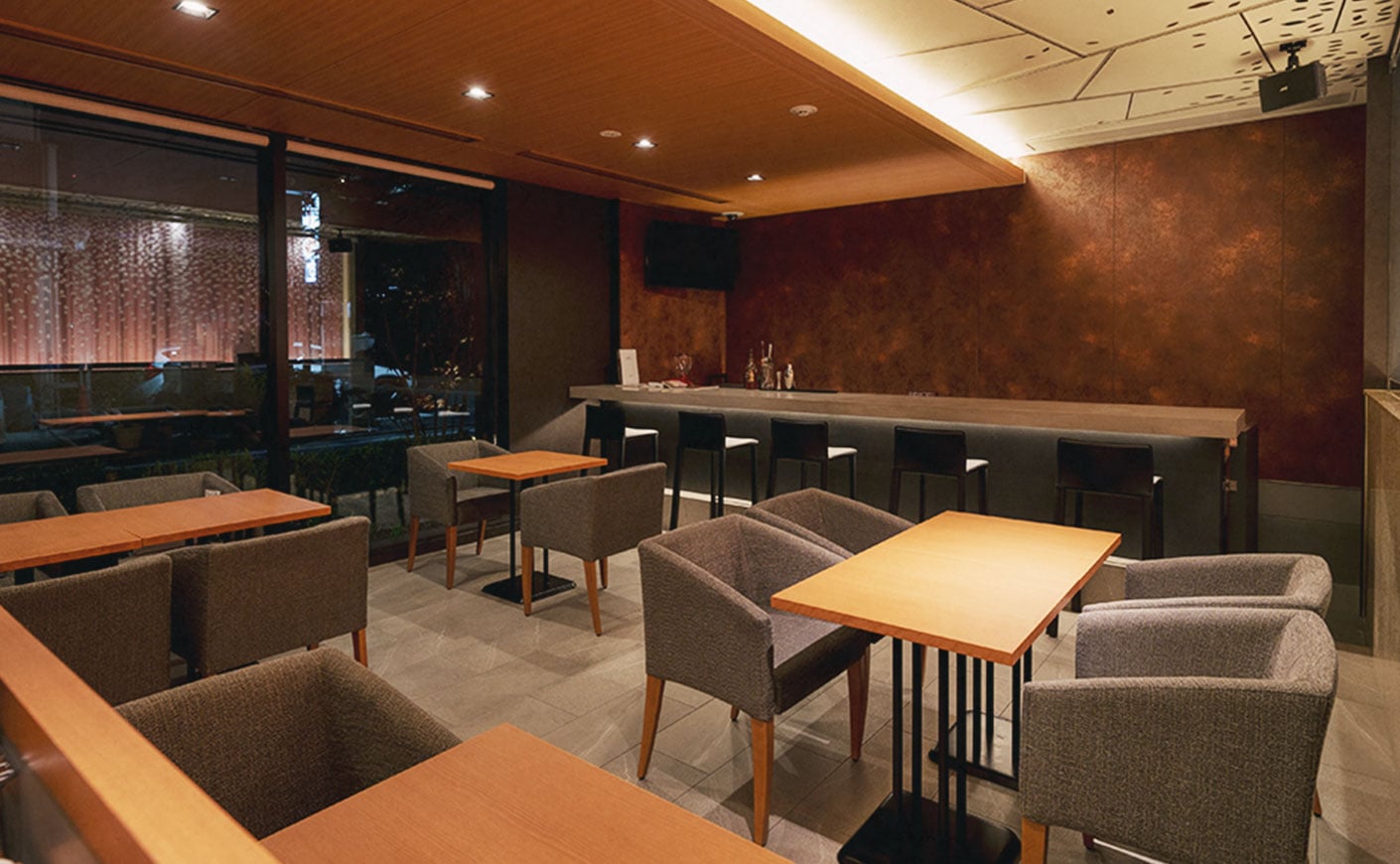 restaurant
1F RESTAURANT&GUEST LOUNGE KAYA
Sunny and bright dining area decorated with dyed artwork.
Dining area on the first floor of the hotel is decorated with artwork using dyed products unique to Kyoto.
Breakfast is served semi-buffet style. The dishes are carefully prepared with flavors unique to Kyoto in each of them.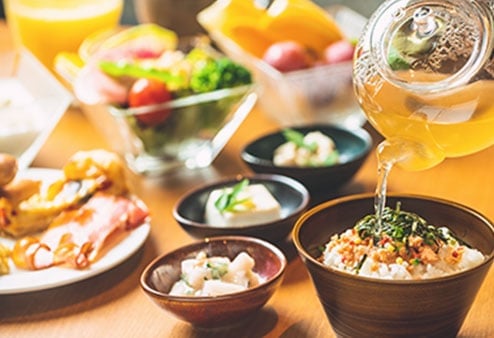 Seating Capacity
39 seats
Hours
Breakfast 7:00-10:00 AM (Last order at 9:30 AM)
Free Guest Lounge 3:00-10:00 PM
Menu
In addtion to Kyoto Style meals, AmericanBreakfast item are also available.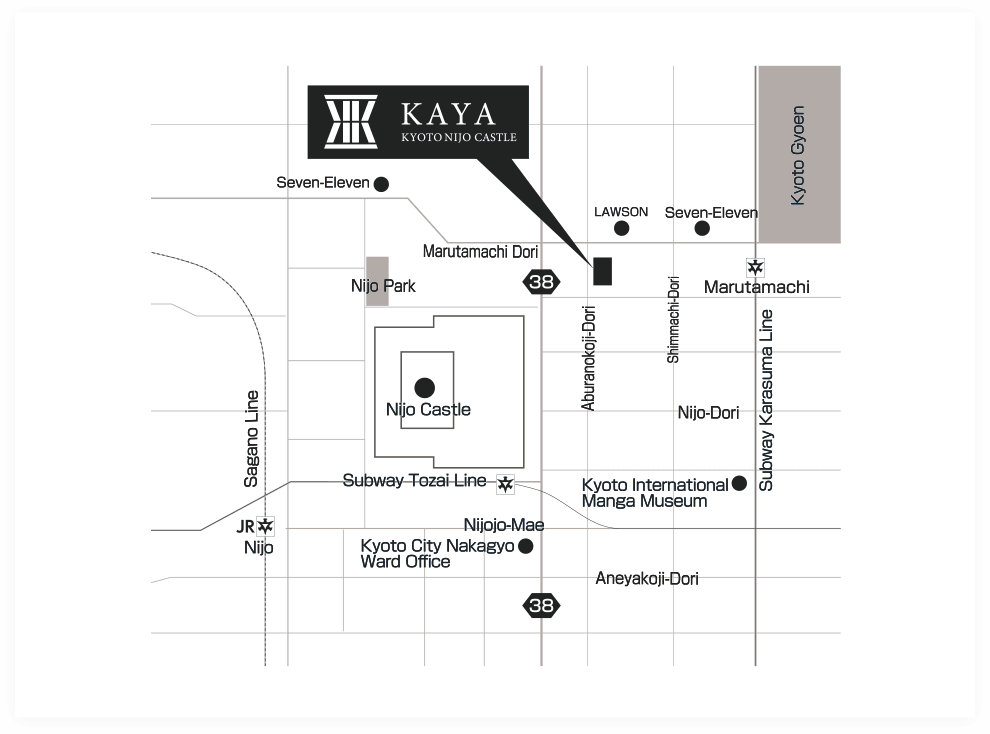 ACCESS
- Approx. 15 mins from JR Kyoto Station by car
- Approx. 10 mins walk from Exit 4 of
Maruta-machi Station on Karasuma Line of the Kyoto Municipal Subway
- Approx. 10 mins walk from Exit 2 of Nijojo-mae Station on Tozai Line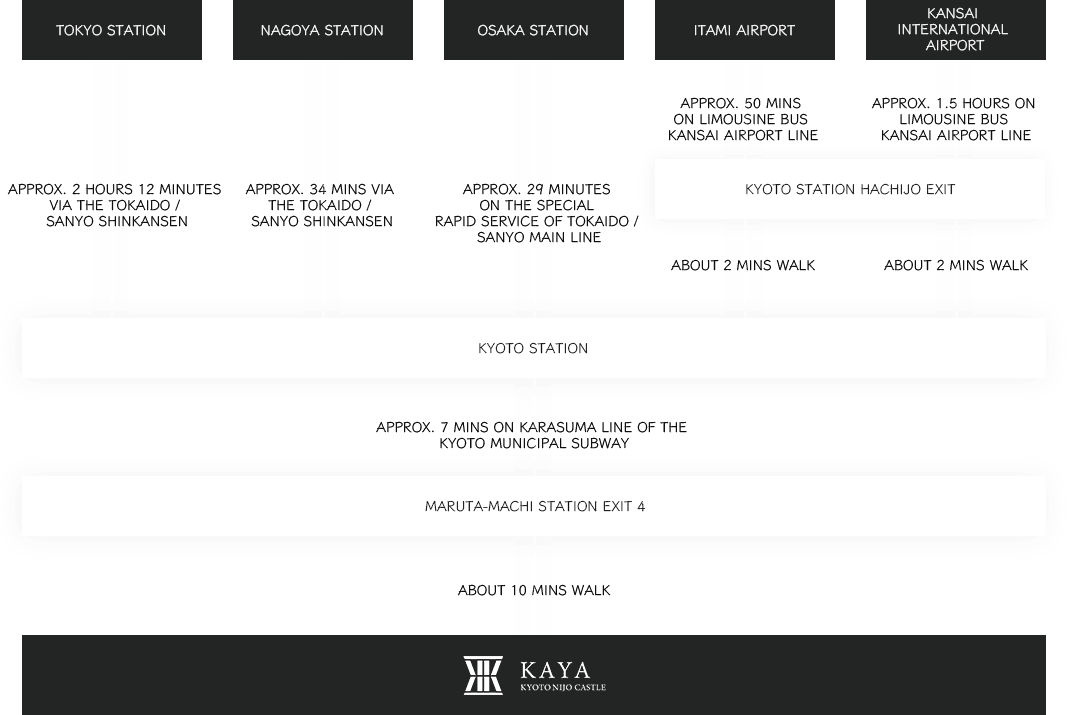 Approx. 2 hours 12 minutes via the Tokaido / Sanyo Shinkansen

Kyoto Station

Approx. 7 mins on Karasuma Line of the Kyoto Municipal Subway

Maruta-machi Station Exit 4

About 10 mins walk

Approx. 34 mins via the Tokaido / Sanyo Shinkansen

Kyoto Station

Approx. 7 mins on Karasuma Line of the Kyoto Municipal Subway

Maruta-machi Station Exit 4

About 10 mins walk

Approx. 29 minutes on the Special Rapid Service of Tokaido / Sanyo Main Line

Kyoto Station

Approx. 7 mins on Karasuma Line of the Kyoto Municipal Subway

Maruta-machi Station Exit 4

About 10 mins walk

Approx. 50 mins on Limousine Bus Kansai Airport Line

Kyoto Station Hachijo Exit

About 2 mins walk

Kyoto Station

Approx. 7 mins on Karasuma Line of the Kyoto Municipal Subway

Maruta-machi Station Exit 4

About 10 mins walk

Kansai International Airport
Approx. 1.5 hours on Limousine Bus Kansai Airport Line

Kyoto Station Hachijo Exit

About 2 mins walk

Kyoto Station

Approx. 7 mins on Karasuma Line of the Kyoto Municipal Subway

Maruta-machi Station Exit 4

About 10 mins walk